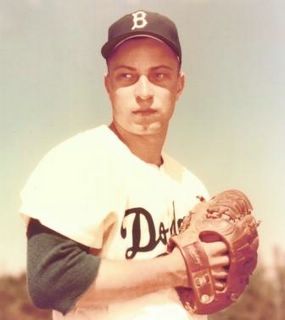 Johnny Podres

Courtesy of
johnnypodres.com
Johnny Podres gave Brooklyn its one and only World Series victory. He killed the Yankees.
A borough-wide celebration more boisterous than those of VE-Day and VJ-Day combined erupted in Brooklyn, which hailed him as their savior.
It was the most celebrated victory in the history of the World Series. It has yet to be matched. No other pitcher had won a World Series final game for Brooklyn. No other pitcher would ever do it again. No other ballplayer had ever replaced such low civic self-esteem with such unparalleled joy. Two years before the Dodgers moved to Los Angeles, Johnny Podres dispatched the Bums from Brooklyn.
Podres, the Most Valuable Player of that Series, and the 1955 Sportsman of the Year, became a pivotal pitching figure for the Dodgers on the West Coast, showing young stars such as Sandy Koufax, Don Drysdale and Don Sutton that it was actually possible to envision World Series victory. Because Johnny Podres broke the ice and melted a major league inferiority complex, the Dodgers would win again and again. Podres won the Los Angeles Dodgers' first game (against the hated San Francisco Giants), pitched the first game at Dodger Stadium, and knew every Dodger hurler from Dazzy Vance to Pedro Martinez.